I'm happy to announce that after couple of weeks spent coding, recording and sound designing an update for Aussie Lingo Audio Companion is now available in the app store.
The update includes:
– 20 more fun Aussie Slang and phrases examples
– Updated iPhone and iPad screen layout
– "Suggest" button to iPad and iPhone menus to enable lingo suggestions to be submitted directly from the main screen
– View Aussie Lingo Facebook page button in info section
Thanks to everyone who has submitted suggestions. Keep them coming!
To download or update you visit the app store
Here is the updated iPhone interface: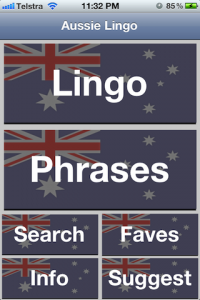 and here is the updated iPad interface: